COMBINING SOUND AND VISION
There are two types of Spectacle Aids or Hearing Glasses:-
Your own 
glasses adapted – the hearing aid clicks onto the frames of your own glasses.  It is also possible to adapt any additional sets of sunglasses and reading glasses.
8 channels allow one of our highly trained audiologists to program the device to your precise level of hearing loss.  They are easily removed for cleaning or servicing.
The all-in-one version – which incorporate 4 tiny microphones inside each of the arms of the glasses.  The sound signals from the microphones are passed through a processor that determines the sounds that should be amplified.  This allows the hearing glasses to lower background noise while selectively strengthening sound coming from in front of you, to give a natural sound.
You select your frame and the style of hearing device; you can choose from a range of 9 frames in 3 different colours.  They also com
e with rechargeable batteries with a charger.
There are also 2 different hearing aid styles, Behind-the-ear (BTE) with a tube or a Receiver-in-Canal (RIC).
One of our highly trained audiologists will advise on what is the best for your personal needs.  If you would like to find out more please call and arrange a consultation with us on 020 8455 6361.
---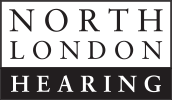 All our staff are highly skilled audiological practitioners who are trained in healthcare provision.  As we are registered with the Health Professions Council, we can accept self-referrals, or referrals direct from your GP or from Ear, Nose and Throat specialists across the UK.  Established for 25 years, we are part of the Harley Street Hearing Group, London's leading independent hearing clinics, and are North London's only Lyric Centre. 
So whether you want advice on hearing loss or protection call 020 8455 6361 or click here to email us.