Balance Centre
In partnership with the Wellington Hospital we offer a full range of vestibular diagnostics and rehabilitation, at the Wellington Balance Centre. We accept referrals for VNG / Calorics and also have access to dynamic posturography and vestibular rehabilitation.
Please contact us for more information on 020 8455 6361 or click here to e-mail us and we will be happy to discuss our service with you.
Hearing Diagnostics
North London Hearing offers a comprehensive diagnostic service.
We provide a range of audiological test procedures, such as pure tone audiometry, tympanometry, speech audiometry and tinnitus measurements. 
All testing is carried out with pinpoint accuracy by trained audiologists. We are pleased to provide an on-demand diagnostic service to both ENT clinics and General Practitioners. All our hearing tests are carried out in a sound treated environment.
We also provide an audiology service to hospitals and clinics requiring diagnostic or rehabilitation services. We are currently audiology providers to the Wellington Diagnostics and Outpatients Centre, Wellington Hospital, HCA at The Shard, and the London Bridge Hospital.
For further information or to discuss your requirements further, please do not hesitate to contact us on  020 8455 6361 or click here
---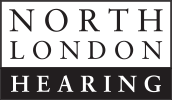 All our staff are highly skilled audiological practitioners who are trained in healthcare provision.  As we are registered with the Health Professions Council, we can accept self-referrals, or referrals direct from your GP or from Ear, Nose and Throat specialists across the UK.  Established for 25 years, we are part of the Harley Street Hearing Group, London's leading independent hearing clinics, and are North London's only Lyric Centre. 
So whether you want advice on hearing loss or protection call 020 8455 6361 or click here to email us.