Without my Lyric hearing aids I would not be able to work as a teacher
"Going to North London Hearing has changed my life so much for the better. Without my Lyric hearing aids I would not be able to work as a teacher, would be nervous of going into company and I think would also be in danger from not hearing traffic etc.
I first went to North London Hearing some years ago and got an efficient ordinary hearing aid, which worked well. When something went wrong with it, or I needed a check-up, I was told about the Lyric and wanted to try that in one ear (now I have one in both ears).
I have always found the clinic in Golders Green and in Harley Street to be friendly, caring, completely professional and supportive.
Full of satisfaction and praise for all of them and happy to recommend them to anyone who might be interested."
Brigid Panet (patient at North London Hearing)
To find out more about Lyric click here
---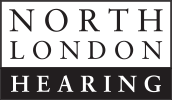 All our staff are highly skilled audiological practitioners who are trained in healthcare provision.  As we are registered with the Health Professions Council, we can accept self-referrals, or referrals direct from your GP or from Ear, Nose and Throat specialists across the UK.  Established for 25 years, we are part of the Harley Street Hearing Group, London's leading independent hearing clinics, and are North London's only Lyric Centre. 
So whether you want advice on hearing loss or protection call 020 8455 6361 or click here to email us.